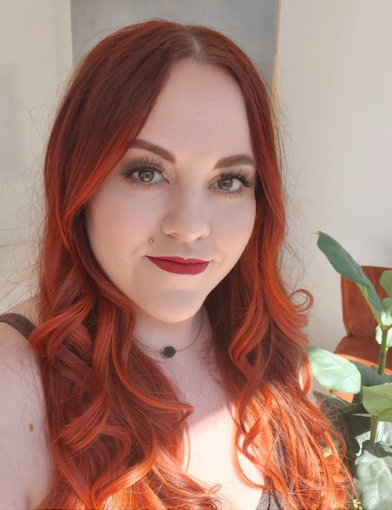 TINA
Level 4A Stylist
Advanced Education:
Redken Certified Colorist
Redken Master Specialist
Hairstylist for 12+ years
Attended classes with Redken Artists Linda Macchi, Sam Villa, Chris Baran, Roger Molina, and more
Attended Redken Exchange for Advanced Color in NYC twice
Attended Redken Symposium in Las Vegas
ABOUT TINA
Outside the salon company, what are your hobbies? Video games, my dogs and cat, dungeons and dragons, anything nerdy or anything that involves my fur babies.
What or where is your favorite vacation spot? Anywhere near wine country or the beach.
Name something most people do not know about you. I have a very specific knowledge about Disney songs and can almost recite them all word for word.
What is your favorite season of the year? I love them all! Spring and fall would be tied for my favorite though. I like the bright and airy feel of spring and the dark and gloomy/spooky feel of fall.
What hair type is your favorite to work on or hair type you specialize in? I love all types of hair. Everyone has "good hair", we just need to learn how to work with it!
What is your favorite in salon service and why? I LOVE color corrections and I love a challenge. If I could make everyone go from one end of the spectrum to the other, I'd be the happiest stylist out there!